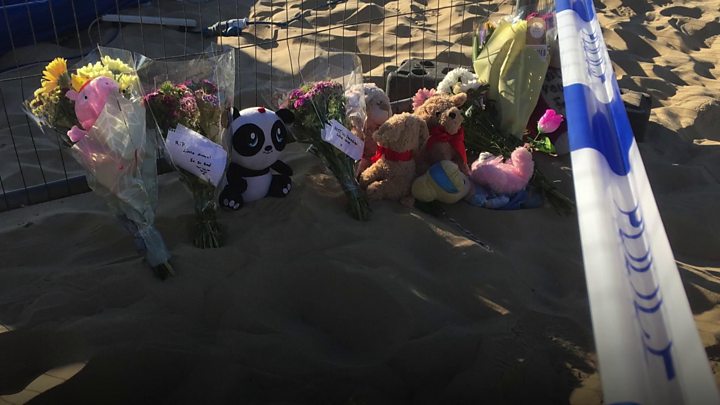 Bouncy castles should be temporarily banned in public areas after the death of a child in Norfolk, an MP has said.
The girl was thrown from an inflatable trampoline at Gorleston beach at about 11:00 BST on Sunday and died in hospital of her injuries.
It follows the death of a seven-year-old girl in 2016 when a bouncy castle broke free from its moorings in Harlow.
The Essex town's MP, Robert Halfon, has called for an "urgent investigation" into the regulation of the inflatables.
He said: "There should be a temporary ban on bouncy castles in public areas until we can ensure they are safe.
"These are two tragic deaths of two beautiful little children in the space of a few years and there needs to be an urgent investigation in the regulation and inspection regimes.
"You cannot risk a tragedy like this happening again."
The girl is believed to have been using an inflatable trampoline, which was part of a wider complex of children's play equipment on Lower Esplanade.
It is not known how many children were in the play area at the time.
Zoe Dye, 32, from Bradwell who digging a hole in the sand with her eleven year-old daughter and saw what happened.
"We heard this massive explosion. She asked me if it was a bomb. Before I could say anything we both looked and there was a little girl about 20 feet in the air.
" I covered her eyes for the landing, I just held her really tight. It was horrific."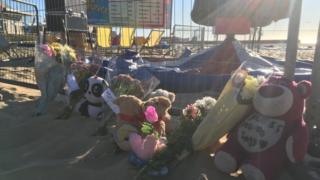 The East of England Ambulance Service Trust (EEAST) said it received more than a dozen calls to the incident and several people, including the RNLI, came to the aid of the girl.
A joint investigation between the Health and Safety Executive, police and Great Yarmouth Borough Council is under way.
Bounce About is registered with the play equipment inspectors PIPA which provides a database of tested inflatable equipment.
The organisation would not confirm when the trampoline had last been inspected saying: "It would be inappropriate to comment until the facts of this tragic incident are known," adding it was offering its full support to the Health & Safety Executive, police and other authorities in their investigations.
Earlier this month, two fairground workers were jailed for manslaughter by gross negligence after a bouncy castle blew away with seven-year-old Summer Grant inside, in Essex in March 2016.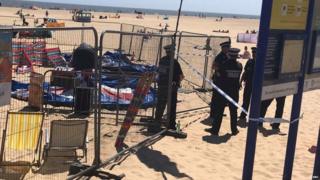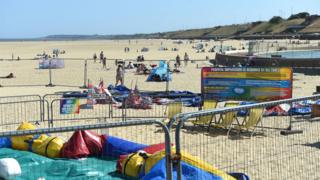 Read more: http://www.bbc.co.uk/news/uk-england-norfolk-44681136