Leo Varadkar says UK must not delay until right before crunch Brexit summit later this month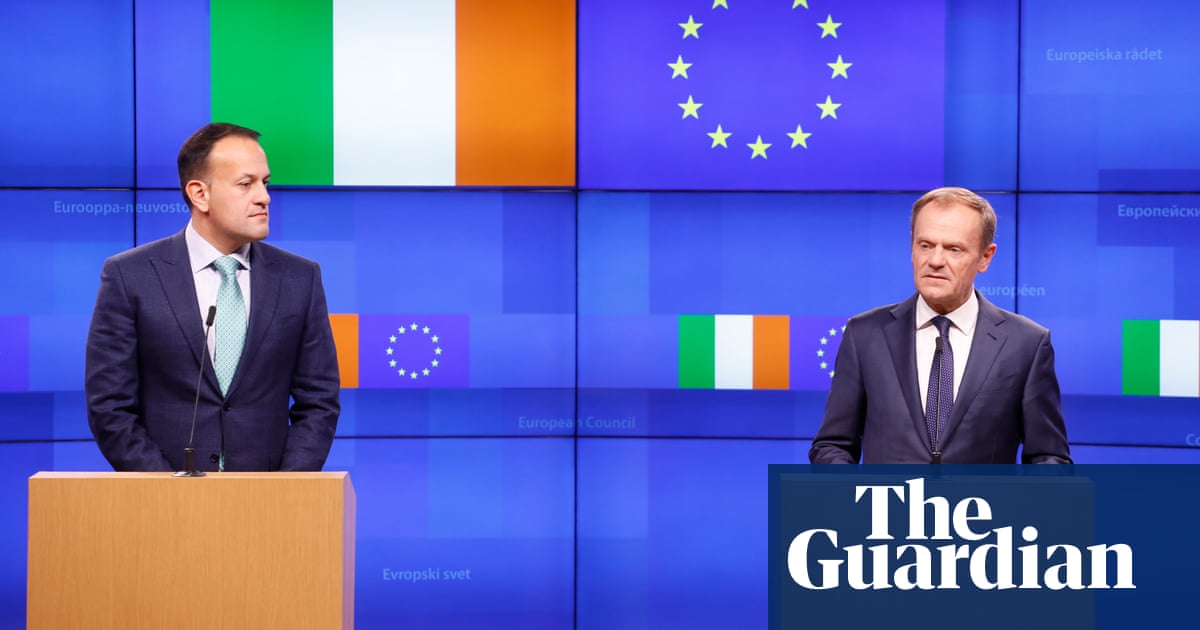 Irelands prime minister has urged Theresa May to publish her revised Brexit border plan as soon as possible so the UK and EU can seal a Brexit deal in November.
Leo Varadkar said the UK must not delay until a few days before a crunch summit on 17-18 October because the EU needed time to respond to it in a meaningful way if talks were to advance. We want there to be decisive progress at the October summit, so that allows us to seal a deal in November, he said.
The Irish leader was speaking to journalists in between a series of meetings with EU leaders in Brussels, as exit talks enter a critical fortnight before the make-or-break October summit.
Donald Tusk, the president of the European council, piled pressure on the British government to strike a compromise and criticised the UK foreign secretary, Jeremy Hunt, for his unwise and insulting remarks comparing the EU with the Soviet Union.
But in remarks that delighted hard Brexit enthusiasts, Tusk said the EU remained ready to offer the UK a Canada-plus-plus-plus deal a far-reaching trade accord with extra agreements on security and foreign policy.
Boris Johnson and other hard Brexit Tories seized on Tusks remarks, arguing they showed it was time for May to immediately switch tack and abandon her Chequers proposals for remaining in a customs union for food and goods. Tusks Canada-plus-plus-plus offer shows there is a superb way forward that can solve the Irish border problem and deliver a free-trade-based partnership that works well for both sides of the channel, Johnson said.
Jacob Rees-Mogg, the chairman of the European Research Group, said Tusks offer was a good solution for everyone. The former Brexit secretary David Davis also seized on Tusks comments, saying they showed that No 10s claim that there is no alternative to Chequers is just wrong. We could easily switch strategies to Canada-plus-plus-plus and deliver an outcome that is good for the UK, acceptable to parliament, and negotiable with Brussels.
Some Brexiters overlook that the EUs version of a so-called Canada deal incorporates a guarantee to prevent a hard border on the island of Ireland, which would keep Northern Ireland in the EU customs union and single market. Canada plus-plus-plus is also a fuzzy concept that has no formal status in EU negotiating documents. Michel Barnier, the blocs chief negotiator, mentioned the idea in an interview with the Guardian and other papers last year.
I dont know what Canada-plus-plus-plus means, it is just a concept at this stage, Varadkar said, adding that it did not negate the need for a legally binding backstop a guarantee to avoid a hard border on the island of Ireland if there is no agreement on the future trading relationship.
With talks deadlocked over the backstop, the British government wants a temporary customs arrangement that would keep the whole of the UK in an EU customs union, but with the right to sign trade deals with other countries.
Varadkar poured cold water on the UKs proposals. The EU could not accept a situation, he said, where British companies had access to European markets but were able to outcompete European rivals by lowering labour, product or health and safety standards. To do free trade you have to do fair trade as well, Varadkar said in a nod to deep concerns on this issue that have been raised by France, the Netherlands and other member states.
The taoiseach sounded a lukewarm note about another British backstop proposal, that the Stormont assembly would have to give consent to new EU regulations. Those who are now putting a huge emphasis on the new for cross-community consent need to put in mind that cross-community consent was not sought for Brexit, he said referring to Northern Ireland voting to remain.
Varadkars day of visits which included a meeting with Barnier underscores that talks are intensifying after the lull of the party conference season.
We should get down to business, said Tusk. In an implicit rebuke to May, who has accused the EU of not showing her respect, he said: Emotional arguments that stress the issue of dignity sound attractive but they do not facilitate agreement.
Read more: https://www.theguardian.com/politics/2018/oct/04/irish-pm-urges-theresa-may-uk-publish-brexit-border-plan