SMARTT acknowledge that Team building is a well proven method for increasing productivity and staff morale in the workplace. Our team building courses are perfect for making a more efficient team out of your staff. Our courses include both physical team building exercises and theory based activities to provide an all round training package. This wide range of methods serves to bring out the strengths and weaknesses within each team of staff. This will allow them to build better relationships with each other and you, work better as part of a team, being more self aware and responding more responsively to feedback and advice. Those involved in our courses always take away something new and positive.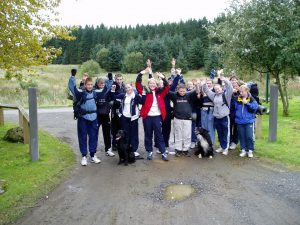 SMARTT specialise in team building and understand how teams work. Working well as a team is crucial to a successful business and can increase profitability greatly. We understand that time constraints can be restrictive, so we endeavour to create a training programme that works around your schedule. We try to squeeze everything possible out of the time frame chosen, no matter how short or how long.
We offer multi-activity days of team building that include a wide range of great activities to help individuals adopt and learn new skills – Whatever your team is, we can guarantee you a fun day of activity all of which are carried out in a safe environment, surrounded by supportive, experienced and fully qualified staff., for example;
• Team building activities
• Orienteering, hill and fell walking
• Archery, Dodgeball and Frisbee Golf
• Over night camping, including navigation and camp craft, learning to cooking a meal outdoors
• Basic bush craft/survival skills and how to master fire lighting skills safely
• Family first aid
• Outward bound activities
• Speed Agility Quickness (SAQ)
All activities and programmes are suitable for all types of business, families and individuals.
Our courses are designed to fit around the objectives of your needs. Please contact us for further details