SMARTT North East works in local schools and academies across the North of England and we are one of the leading providers delivering 13-16 'Out of School' and 'at Risk of Exclusion' programmes. Our aim is to adopt the highest standards and recognise all learners have an equal right to succeed.  We work towards an integrated curriculum and learners are encouraged to meet challenges with enthusiasm, honesty and a willingness to solve problems.  We aim for an atmosphere of cooperation, through "Enjoying and Achieving" with respect for individual differences and community values.
We deliver a wide range of qualifications and programmes that can be tailored to the students and schools needs.  Our schools programmes can be delivered in the form of long and short courses.  We have the experience and expertise to deliver positive outcomes in:
Employ positive behaviour management
Create a supportive learning environment in which learners feel safe
Teach learners to value and respect the contributions of others
Assist in bringing the most hard-to-reach young people back on track
Re-engage students who need a more tailored approach and support them into further education employment or training,
SMARTT's delivery takes place during school hours and is combined with 'in' and 'out of classroom learning'.  Our programmes is an initiative that aims to equip year 9, 10 and 11 learners who have disengaged or are at risk of being excluded from mainstream education. We offer schools and academies a range of differentiation and support to enable students to take the next step towards their career goals and give them the Key Skills to succeed in life.  SMARTT's delivery provides an alternative curriculum programme in a relaxed and informal setting. We will conduct an initial assessment to identify any learning and support needs, and from this a structured curriculum is devised. This assists in the setting of clear and SMARTT targets and allows students to work at their own pace.
SMARTT can provide courses for individuals or groups with Behavioural Emotional & Social Difficulties (BESD) and Special Educational Needs (SEN) which meet Ofsted requirements. We deliver nationally recognised awards and qualifications to bolster delivery -We are fully registered  with a range of leading Awarding Bodies (ASDAN, City & Guilds, Highfield, OCR and SAQ international)
Staff & tutors are mainly ex-forces and are highly experienced and qualified trainers (PCET, Cert-Ed, DTTLS, PTTLS or are working towards them)  along with enhanced Disclosure and Barring service (DBS)  (previously CRB checks)
SMARTT is fully competent with, Safeguarding, H&S, Equality & Diversity with excellent retention and achievement rates for all cohorts of pupils.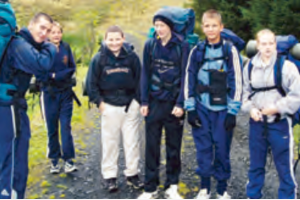 "SMARTT are a company I would certainly recommend to any school who are looking for a quality service that delivers relevant, meaningful and achievable programmes for specific groups of students. They achieve 100% success every time."
Kath Davidson, Deputy Headteacher,
Walker Technology College, Newcastle